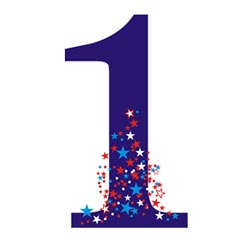 Numerology is an important role in astrology. '1' is called number of the sun in numerology.
the 1 has been considered Lucky Number or Destiny Number. This number is variable. People
whose birth date is 1,10,19,28 have '1'and their overlord is sun. They are determined,
freedom lover and have innate talent of leadership.
They are hardworking, passionate, self-respected and powerful.
Due to the effects of the sun they have habit of listening to
their heart and sense of honesty. They believe in working
with full of integrity and never give in front of anyone. These
individuals don't like to be subservient. They take their
decision themselves.

Due to the effectiveness of the sun these individuals want
others to be their subservient. These individuals very radiant,
savant and virtuous. There is sense of kindness and
generosity in their behavior.
Their morale is full of willpower. They have ability to do their work their selves. They don't
depend on others and make their selve a effcient
administrator in a short course of time.
Features of '1'.
'1' is excellent cause of containing uniqueness. It's
owner planet is sun. These individuals are so creative.
Sometimes these individuals become so stubborn and people
call them egoistic. The one who accept their ego, become
their friend and the one who doesn't became their rival.
Negative features of number 1

These people are affected by sun that's why they are so
egoistic, proudy, showy and always be in a hurry. As a result of
these shortcomings they miss opportunity that's why they
have to face problems, as well as not able to recognize
their rival they have suffer a lot.